Ad blocker interference detected!
Wikia is a free-to-use site that makes money from advertising. We have a modified experience for viewers using ad blockers

Wikia is not accessible if you've made further modifications. Remove the custom ad blocker rule(s) and the page will load as expected.
This song appears in the first series episode "
Bollo
" when Howard is mistaken for Bollo and taken to Monkey Hell by the grim reaper.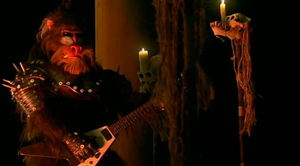 Back story
Edit
When Howard reaches monkey hell, he is closely followed by Vince who realises that the Ape of Death is only mean and evil because he is ashamed of his limp lifeless barnet. He introduces the ape to naboo's miracle wax, and therefoe, a new bountifull boosted hairdo is born! This results in a song...
Hit it!

I'm the Ape of Death and I don't care
Cos I'm the monkey with the lovely hair
It's all fluffy and shiny too
Cos I got that Miracle Wax from Naboo.

Don't be cynical
It's a follicle miracle
I said, don't be cynical
I keep waxing lyrical

He's the Ape of Death and he don't care
Cos he's the monkey with the lovely hair
It's all fluffy and shiny too
Cos he got that Miracle Wax from Naboo.

Come on, now!

Ah-ah, yeah!
One, two, three, four
Dig that monkey song

Look around at my monkey hair
You can touch it, I don't care
Used to be that I was ashamed
But now the monkey fluff is tamed.
Come on everybody and walk around my hair!

Don't be cynical
It's a follicle miracle
I said, don't be cynical
I keep waxing lyrical