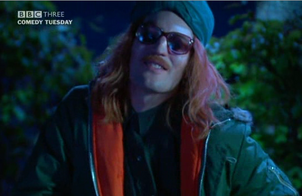 A fictional character portrayed by by Noel Fielding who appears in Call of the Yeti , the first episode in Series 2.
Barry is a Welsh shamen. He has ginger hair, thick glasses and a green turban. His familiar is a bat named Chrissie (used to be a black cat).
Barry meets Naboo in Shamansbury's. They briefly discuss the last time they met at Wickham Caves. Barry recently upgraded his familiar from a black cat to a bat called Chrissie. He warns Naboo to avoid Piney Ridge because it's Yeti mating season.