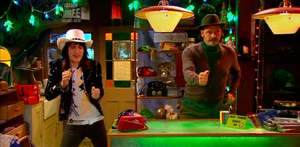 Bouncy Bouncy is a song and crimp from the episode "Party".
Backstory
Edit
Vince is telling Howard how much fun a bouncy castle is and 'lures' him in with a crimp.
Bouncy Bouncy
Oh such a good time
Bouncy Bouncy
Shoes all in a line
Bouncy Bouncy
Everybody summersault,
summersault
Summertime
Everybody sing along
Bouncy Bouncy
oh such a good time
Bouncy Bouncy
White socks slipping down
Bouncy Bouncy
Stilettos are a no no
Bouncy Bouncy oh
Bouncy Bouncy oh
Everytime I bounce I feel I could touch the skyeee
video
Ad blocker interference detected!
Wikia is a free-to-use site that makes money from advertising. We have a modified experience for viewers using ad blockers

Wikia is not accessible if you've made further modifications. Remove the custom ad blocker rule(s) and the page will load as expected.