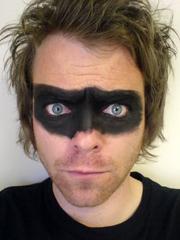 Dave Brown is best known as the actor who plays Bollo with the Mighty Boosh universe. Born August 24, 1973) is a British comedian, choreographer and photographer.
His most prominent role is that of Bollo the ape. He also plays Joey Moose, and several others. He choreographs the dance routines (along with Dee Plume from Robots in Disguise) and assists Julian Barratt (plays Howard Moon) in songwriting.
He is originally from Southend in Essex, and attended Buckinghamshire Chilterns University College (now Buckinghamshire New University), where his degree was credited at Brunel University, along with Noel Fielding (who plays Vince Noir), and is an art director. He designed the DVD cover for the live tour and box set.
Related links
Edit
Ad blocker interference detected!
Wikia is a free-to-use site that makes money from advertising. We have a modified experience for viewers using ad blockers

Wikia is not accessible if you've made further modifications. Remove the custom ad blocker rule(s) and the page will load as expected.