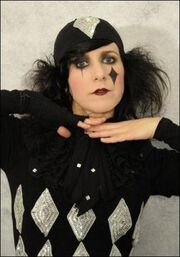 Dee Plume (Delia Gaitskell) is the ex-girlfriend of Mighty Boosh star
Noel Fielding
and member of the electroband
Robots In Disguise
. Dee has been in many episodes of The Mighty Boosh, sometimes with bandmate Sue Denim, including:
Mutants: A mutant created by Dixon Bainbridge with an elephant's trunk.
Electro: A member of the group Kraftwerk Orange, called Neon.
Nanageddon: A goth girl, called Anthrax, who Vince tries to impress by holding a seance.
The Legend of Old Gregg: Matilda, a fisherman's wife covered in shells.
The Strange Tale of the Crack Fox: The girl whom Naboo uses as a conduit to speak through, and again in cartoon form as one of the girls that the fox meets in London.
Party: A girl who plays spin-the-bottle with Howard and Vince. One of the dancers for Vince's dramatic entrance to the perty. And later as the girl Vince takes an interest to after his and Howards' kiss.
Eels:A girl standing in the line (shes not usually noticed until in the audio commentry noel says"what's Dee looking at? no one knows".
The Chokes: as an audience member at "Vince Noir's electric circus".

Dee Plume and Sue Denim were also back-up dancers for both tours of The Mighty Boosh. Noel Fielding has been in several music videos by Robots in Disguise, and sometimes played bass at performances. Dee Plume and Noel Fielding split up in 2008.
Dee Plume choreographed the dance for the song "Love Games" in the episode The Legend of Old Gregg.
Kirk, who is often called Noel Fielding's nephew, is actually Dee's nephew.
Ad blocker interference detected!
Wikia is a free-to-use site that makes money from advertising. We have a modified experience for viewers using ad blockers

Wikia is not accessible if you've made further modifications. Remove the custom ad blocker rule(s) and the page will load as expected.