Dixon Bainbridge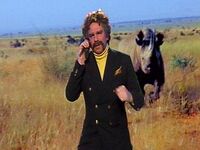 Portrayed by   -   Matt Berry
Occupation   -   Owner of Zooniverse
First appearance   -   Pilot
Last appearance   -   [[Hitcher]]
Interests   -  Exploring

Dixon Bainbridge was played by Richard Ayoade in the pilot episode but due to Richard's contract with channel 4 he had to be replaced with Matt Berry for the first series.
Characteristics
Edit
Dixon is the owner of the Zooniverse who only turns up at the zoo occasionally for events and spends most of his other time exploring or traveling in other countries. When he does return to the zoo, however, he usually creates a lot more trouble than he should. Bob Fossil was in love with Bainbridge but was resultantly often beaten up by him; usually by being kneed in the balls and punched in the face. Bainbridge has very strange ideas, such as running his own secret lab where he stole and mixed various animals and zookeepers together to make a half-human/half-animal creature. He is very arrogant, such as when he took credit for Vince's novel about "Charlie" and travelled to the Arctic Tundra to find the "Egg of Mantumbi" so he could beat Vince and Howard to it.
Exploring
Adventures
Himself
Guns
Making Mutants
| | |
| --- | --- |
| Howard Moon and his "Ugly Wife" | |
Ad blocker interference detected!
Wikia is a free-to-use site that makes money from advertising. We have a modified experience for viewers using ad blockers

Wikia is not accessible if you've made further modifications. Remove the custom ad blocker rule(s) and the page will load as expected.