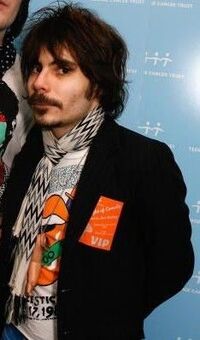 Michael Fielding, more commonly known as Mike Fielding, is best known for playing the character of Naboo with the Mighty boosh television series. He was born 1981 in Westminster, London, England and raised in Mitcham, Surrey. He is a comedian and actor.
His brother Noel Fielding gave him an acting part in The Mighty Boosh, which proved to be his big break. He has also had a small role in The Forsyth Saga. Most recently, he has been doing voiceover work for the BBC's "See-Hear" programme.

The Mighty Boosh
Michael is best known for playing Naboo the Enigma, the shaman on The Mighty Boosh, co-written by and co-starring his older brother, Noel Fielding. He became part of The Mighty Boosh when he accompanied Noel to a show in Australia. Noel said on an interview with Jonathan Ross that the abstract name of the show came about from one of Michael's Portuguese friends who described his hair as being like a "mighty bush", owing to Michael's curly childhood hairstyle.
Related links
Edit
Ad blocker interference detected!
Wikia is a free-to-use site that makes money from advertising. We have a modified experience for viewers using ad blockers

Wikia is not accessible if you've made further modifications. Remove the custom ad blocker rule(s) and the page will load as expected.