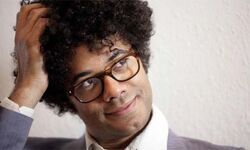 Richard Ayoade, born 1977 in London, is an English comedian, actor, writer and director best known for his role as Maurice Moss in The IT Crowd.
The Mighty Boosh
Edit
In The Boosh radio series Richard played the part of Tommy Nookah in the second episode, Jungle, originally aired on 23 October 2001. Ayoade was part of the original cast of Julian Barratt and Noel Fielding's The Mighty Boosh: he was selected to play the role of dangerous villain Dixon Bainbridge. However, by the time the radio series transferred to television he was under contract by Channel 4 and was only able to act in the pilot before leaving the Boosh. The part was taken by fellow Darkplace actor and eventual "IT Crowd" costar Matt Berry.
He later returned in the second series, to play the part of the belligerent shaman Saboo, where he improvised the line 'an erotic adventurer of the most deranged kind' when describing Noel Fielding's nephew, who was also in the scene. Ayoade continued his association with The Mighty Boosh in the third series, acting as script editor and also reprising his role of Saboo in the episodes "Eels", "The Strange Tale of the Crack Fox" and "Party".
Related links
Edit
Ad blocker interference detected!
Wikia is a free-to-use site that makes money from advertising. We have a modified experience for viewers using ad blockers

Wikia is not accessible if you've made further modifications. Remove the custom ad blocker rule(s) and the page will load as expected.