Appears in The Priest and the Beast. A fellow Bongo Brother of Rudi van DiSarzio, Spider is a highly sexually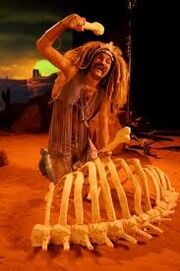 charged drummer with a heavy Mexican accent, having trouble with English idioms. Spider had an affair with Rudi's wife during the 60s, an ongoing source of tension between them. He has come to the attention of Carlos Santana, who tries to recruit him. He defeats Betamax by rewinding him using the newly acquired door in his hair. He was named by Rudi after the love of mustard he demonstrated as a child, and the fact that he has "eight of something" (eight cocks). Played by Noel Fielding. He sings a song called "
Spider Lovin
" and supposedly had an affair with the Betamax's wife.
Ad blocker interference detected!
Wikia is a free-to-use site that makes money from advertising. We have a modified experience for viewers using ad blockers

Wikia is not accessible if you've made further modifications. Remove the custom ad blocker rule(s) and the page will load as expected.