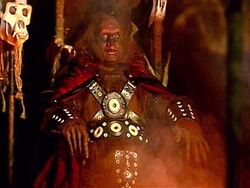 The Ape of Death is the guardian of the gates to Monkey Hell and has two mandrill minions, Davey and Nemo. He also has trouble with his hair. If he washes it, it becomes too dry. If he leaves it, it becomes too greasy. When Vince styles it with Naboo's Miracle Wax, he feels "confident and super sexy", and sings a celebratory song with the episode cast.
Ad blocker interference detected!
Wikia is a free-to-use site that makes money from advertising. We have a modified experience for viewers using ad blockers

Wikia is not accessible if you've made further modifications. Remove the custom ad blocker rule(s) and the page will load as expected.