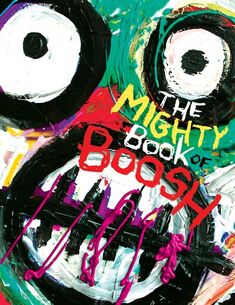 Incredibly funny, visually dynamic, surreal, musical, wildly creative - The Mighty Book of Boosh is 100% original artwork, writing and backstage photos by Julian Barratt and Noel Fielding as well as other Mighty Boosh characters. The book was art directed by Dave Brown (aka Bollo).
Content includes:
An extract from Howard's jazz detective novel Trumpet Full of Memories
Vince's Christmas Toy story
Bollo's letters to Peter Jackson
Bob Fossil's postcards from 'Nam
A new Charlie story
Ol' Gregg's watercolours
Naboo's guide to black magic
Dixon Bainbridge's Turkish Challenge
Bruno Mindhorn's poetry
Crimp lyrics and much, much more
Creative Review published a sneak preview of the book in late August 2008.
Ad blocker interference detected!
Wikia is a free-to-use site that makes money from advertising. We have a modified experience for viewers using ad blockers

Wikia is not accessible if you've made further modifications. Remove the custom ad blocker rule(s) and the page will load as expected.