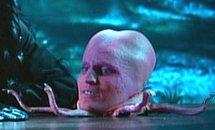 Tony Harrison
is a fictional character portrayed by Noel Fielding. He was originally created for a 2005 episode of the second series of The Mighty Boosh, "Nanageddon", and later returned for three episodes of the third series. He is from
Xooberon
, the same planet as Naboo, as revealed on the Future Sailors tour. It is revealed in the episode 'Nanageddon' that he suffers from motion sickness, though he is 'good on horses'.
He is on the Board of Shaman, though is often mocked because of his lack of legs/torso. Despite this, Tony has a 'gift for strategy' but he often comes unstuck as he needs someone to write down his ideas, and doesn't perform well under pressure. From The Mighty Book of Boosh we can deduce that Tony is a fan of music such as Massive Attack and Fleetwood Mac, much to the disdain of Saboo, who believes Fleetwood Mac are 'bullshit munchers' and that that he should listen to decent music, 'like Foreigner'. His catchphrase is "This is an outrage!", which he often shouts at Saboo, a fellow shaman. References to Mrs Harrison suggest he has a wife, who does yoga and runs a craft shop. She also had a sister. (ref: Mighty Book Of Boosh).
Ad blocker interference detected!
Wikia is a free-to-use site that makes money from advertising. We have a modified experience for viewers using ad blockers

Wikia is not accessible if you've made further modifications. Remove the custom ad blocker rule(s) and the page will load as expected.